Quicksilver and the Tower
Ahh, we vain writers.
We long for permanence in the written word.
We assume permanence in the written word.
Our message will last forever and be well understood!
What a joke.
Language is as fluid as the nearest river!
Word meanings are always changing. Languages are always intermingling.
Quicksilver.
Now add the aging brain of me to the quicksilver of language and you know I'm on a slippery slope!
And that is not the half of it.
We live in a day and age that is tongue-tying and mind-boggling! You know.
We are building the tower to heaven
again
that got those ancient ones so tripped up in language that they babbled!'
I was fascinated with the Tower of Babel story as a child.
It didn't make sense to me even as a child that God would abolish a skyscraper tower because it might actually pierce heaven !
Pictures of "the tower" show our version of their tower.
The ancient story is that "the tower" was being constructed to reach heaven!
And before they reached their goal, the language of all people was confounded.
To truly understand the scriptures we must
think the unthinkable
.
Yes. Like God is going to tremble at any manmade skyscraper because it might ascend the stratosphere and ....what? Bump into some hidden dimension? Are you serious?
Think the unthinkable
starts with
un-think the thinkable
.
Why do we think antiquity had no nuclears, no world class CDC, no globalists running around trying to grap all power?
Why do we think if there is no record, it "didn't happen"?
Why do we think we are the modern advanced age, building upon the shoulders of others who came before us, those poor unfortunate darlings?
Why does it not occur to us we are merely repeating something that was even more advanced than our scene before it was wiped to the ground?
We aren't arrogant are we? Nah. Not us.
Piercing the heavens. That's what those ancient arrogant brilliant rebel people were up to!
Piercing the heavens. That's what we are up to!
The secrets of the universe.....the "god particle".....creation of life.....eternal life......power unlimited...that is the tower the ancient arrogant brilliant rebel people were constructing.
I think we have a lot in common with them.
Historians of the ancient world have tried to come up with a picture of the "tower of Babel" and they have such a low opinion of our ancestors, they think those ancients were building a skyscraper!!!
Look how our ancient ancestors are depicted. Lowly workers with few machines.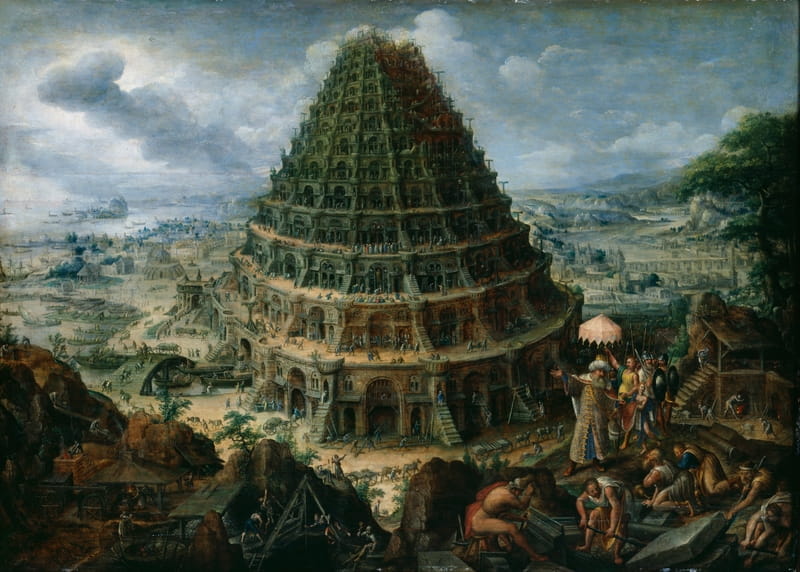 biblestudytools.com
Bricks. They did use bricks.
We used bricks. Lots of bricks.
Check out CERN's Hadron Collider where they search for the secrets to being all powerful.
A sideways tower built to pierce the heavens.
I cannot help but wonder if this looks anything like the ancient Tower of Babel?
I don't know how many bricks the ancients used, but some of the ancients got tired of carrying bricks!
Refused to work on the project.
Yeh. We moderns have also experienced social opposition to the building of this brick edifice that is meant to pierce the heavens.
We moderns have already run into a few strange problems with our collider (sideways tower).
We explain away the unexplainable and we forge on, undaunted.
This tower is where the World Wide Web was born,
The World Wide Web which has become so important to me I think I might go insane from withdrawal should it ever be taken away!
Maybe even die from eating too many M&M's as I try to cope!
But, seriously, let's think about how that World Wide Web is affecting us.
Is it possible the natural consequence of our tower is to affect our ability to speak coherently?
Think the unthinkable.
Listen to the newscasters. Listen to the teachers. Listen to yourself!
Are we beginning to babble?
Just yesterday during a conversation a woman said,"What bothers me is the conscientousality of it."
We all paused and looked at her. Finally somebody said, "You mean constitutionality?"
"Yes", she said. "What did I say?"
Just recently I heard an elementary school teacher say, "Please! Tone it down! You are being too quiet and I won't tolerate this!" (She was angry.)
A newscaster said the other day, "Well, that created a tempest in a tea cup!" (errr isn't that
tempest in a teapot
?)
"Karen, you're on! I mean Sharon. Did I just call you Karen?"
We expect this from the oldies. But from people in their prime? I don't think this is normal.
Listen to the babble around you. Hear the struggle to express oneself verbally.
You will hear things like the following examples of what I have recently heard from people in their prime:
long picture ….........instead of big picture
up stairs....................instead of up front
"Thanks for your contributes...ahh, ahh, your contributings......ahh, your CONTRIBUTION!"
It's becoming a struggle folks! This struggle is new. It is worsening.
Have fun listening.
Or be alarmed.
Quicksilver.
Language is quicksilver and fragile.
Your visits mean a lot. Thanks.
Grateful for language,
Riverwatch